JTRON SEWING AUTOMAT/ LINE SOLUTIONS
For those who seek for highest quality and productivity beyond the current equipment and automated machines,"JTRON" provides high operability and quality satisfying professionals.
JUKI is always pursuing not only high functions and performances, but also high productivity in processes.
"JTRON" is now released as one of the above solutions.
J in JTRON stands for "J" in JUKI and JAPAN, TRON derives from a Greek suffix meaning "Tools" and "Equipment".
We put the spirits of JUKI and JAPAN into the equipment and automated machines named by JTRON.
The products achieve high reliability by incorporating with JUKI's approved quality sewing machines.
Only JUKI highly knowledgeable in sewing processes can provide this ideal operability.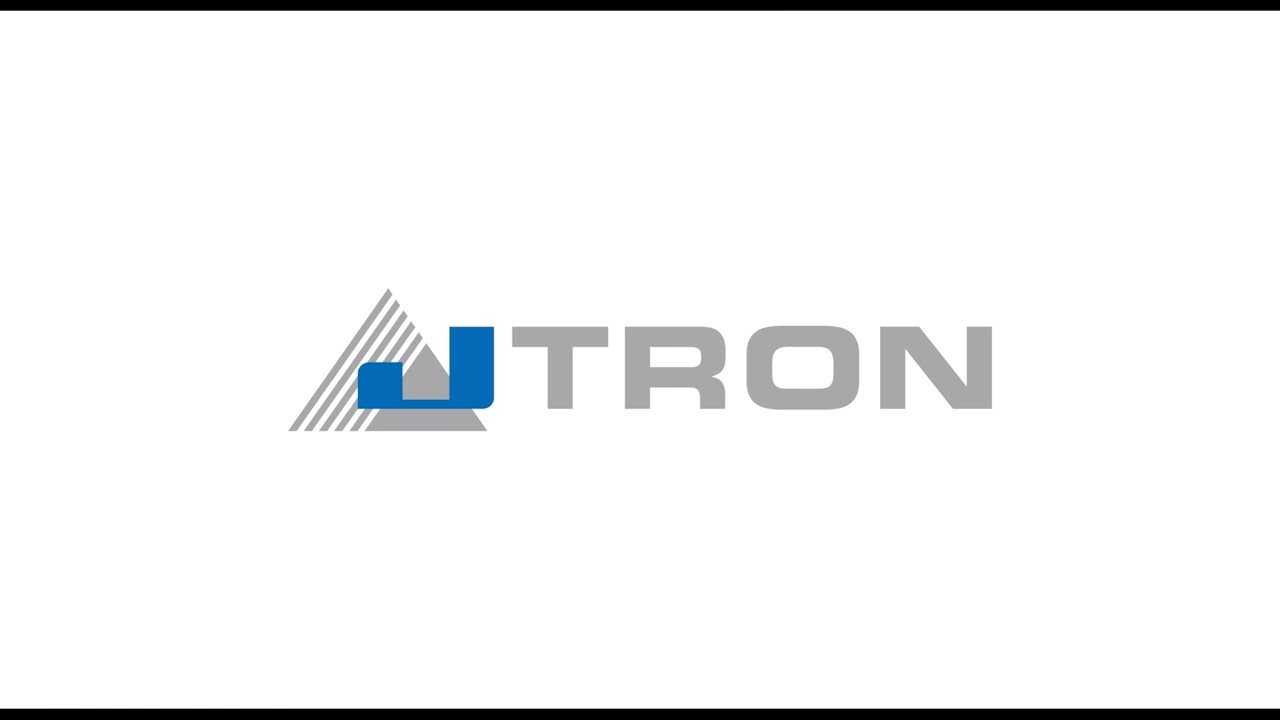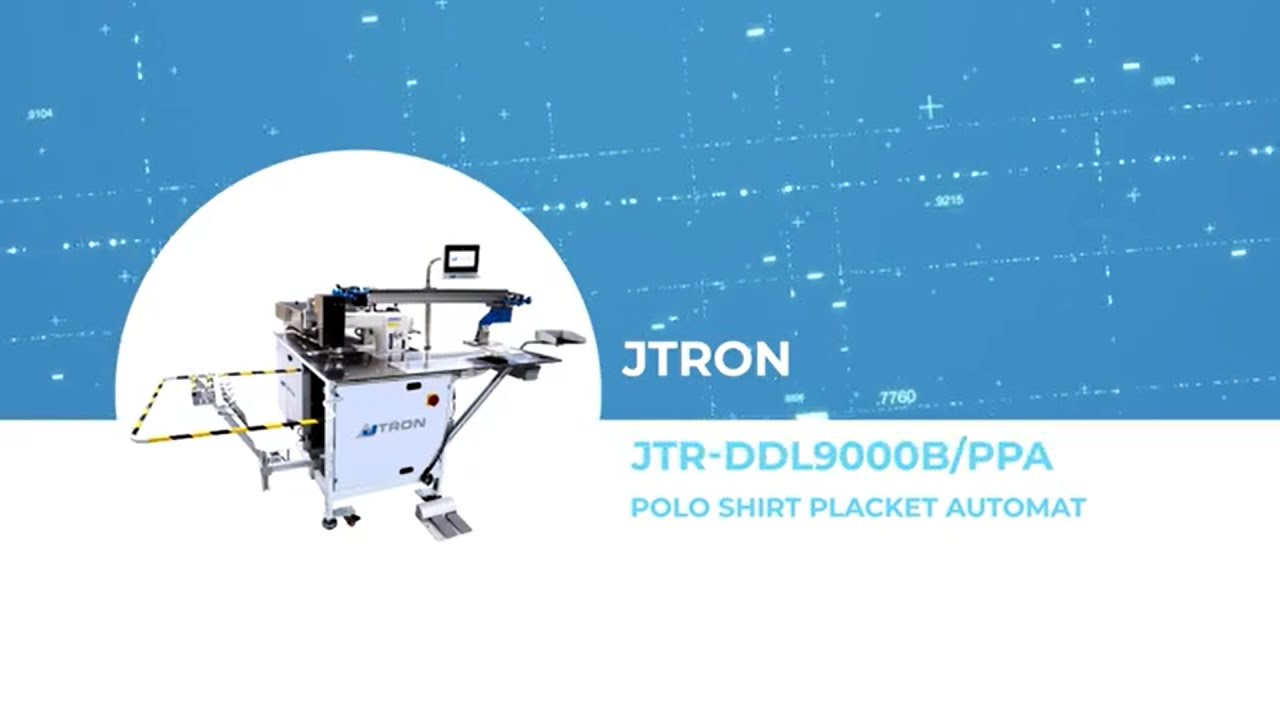 JUKI JTRON JTR-9000B/PPA Polo Shirt Placket Automat
HIGHLIGHTS:
▀ Front placket cutting feature with single or double knife
▀ Center knife system can be adjusted together with the seam
▀ Automatic feeding and stacking units
▀ Adjustable desing patterns of front placket via touchscreen
▀ Thread breakage sensor reduces production losses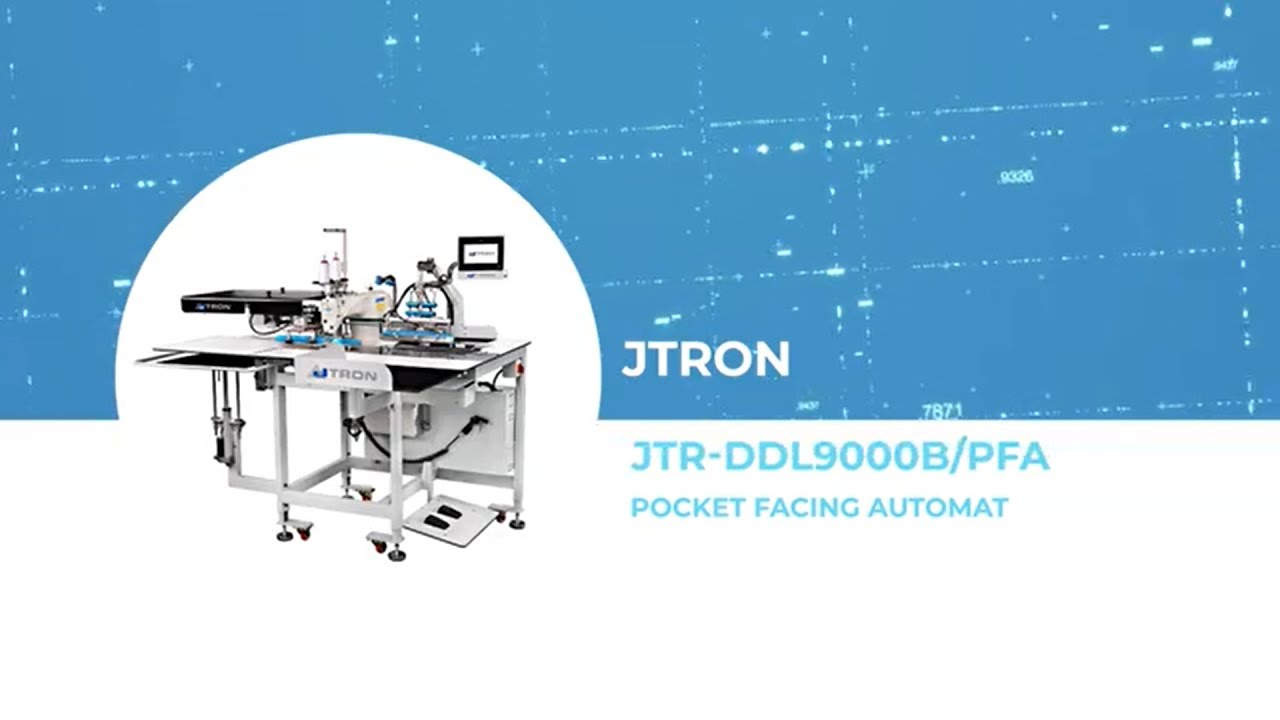 JUKI JTRON JTR-DDL9000B/PFA Pocket Facing Automat
HIGHLIGHTS:
▀ Touchscreen LCD display
▀ 30 program memory easy to use program panel
▀ Step motor controlled belt transport system
▀ Clean folding attachment
▀ Photocell control stitch at the beginning and at the end
▀ Upper thread photocell control
▀ Pneumatic controlled pocket facing stacker
▀ Rail system for pocket bag and pocket facing
▀ Laser marker system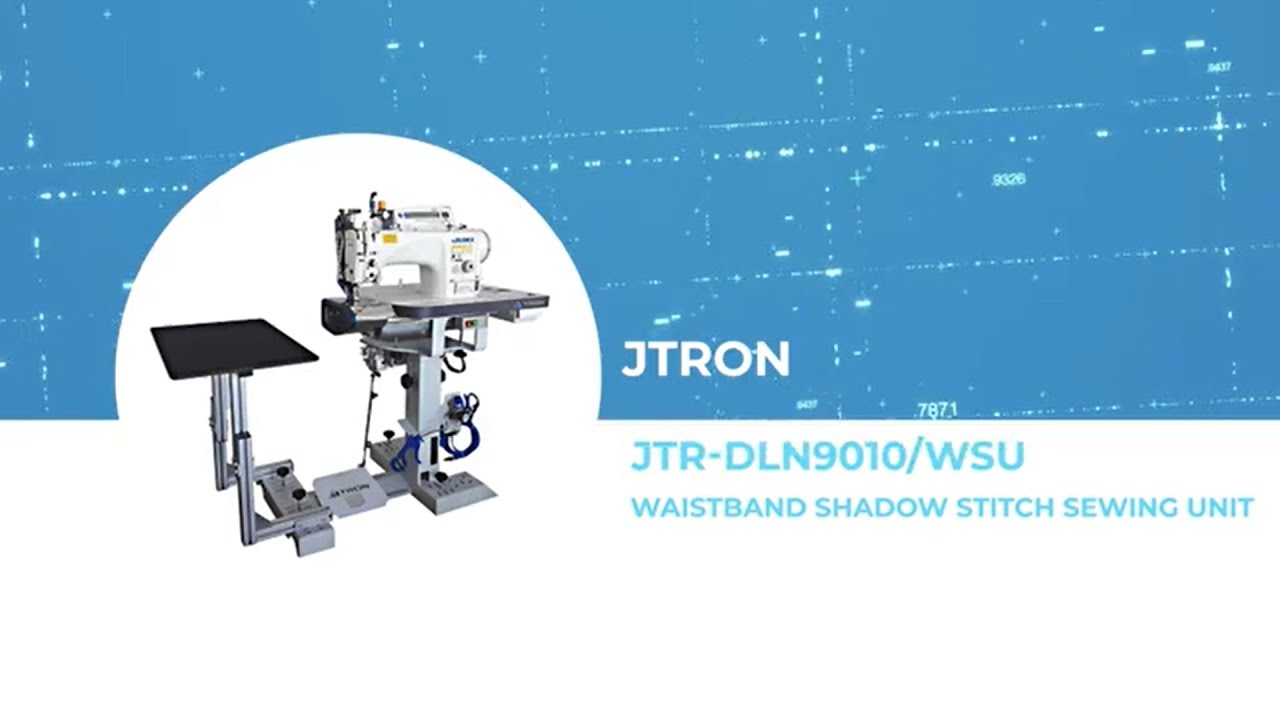 JUKI JTRON JTR-DLN9010/WSU
Waistband Shadow Stitch Sewing Unit
HIGHLIGHTS:
▀ Special design, height adjustable table system
▀ Automatic thread trimmer and wiper
▀ Automatic presser foot lifter
▀ Speed setting feature on electronic panel
▀ Excellent stitch quality thanks to the needle transport and puller system
▀ High efficiency, superior performance
▀ Maximum energy saving
▀ Vibration free and silent working environment
▀ Closed circuit automatic micro oiling system
▀ Micrometric foot pressure setting feature
▀ Spot free operation possibility
▀ Presser foot fast/slow drop feature (with parameter)
JUKI JTRON JTR-DLU5490/SHU
Shirt Bottom Hemming Sewing Unit
HIGHLIGHTS:
▀ Perfect seam quality due to top and bottom feed system
▀ Ergonomic design workstation for easy handling
▀ Special air type attachment for bottom hemming
(4-5-6-7 mm hemming width options)
▀ Automatic thread trimmer and wiper
▀ Automatic presser foot lifter
▀ Back-tack function at the beginning and at the end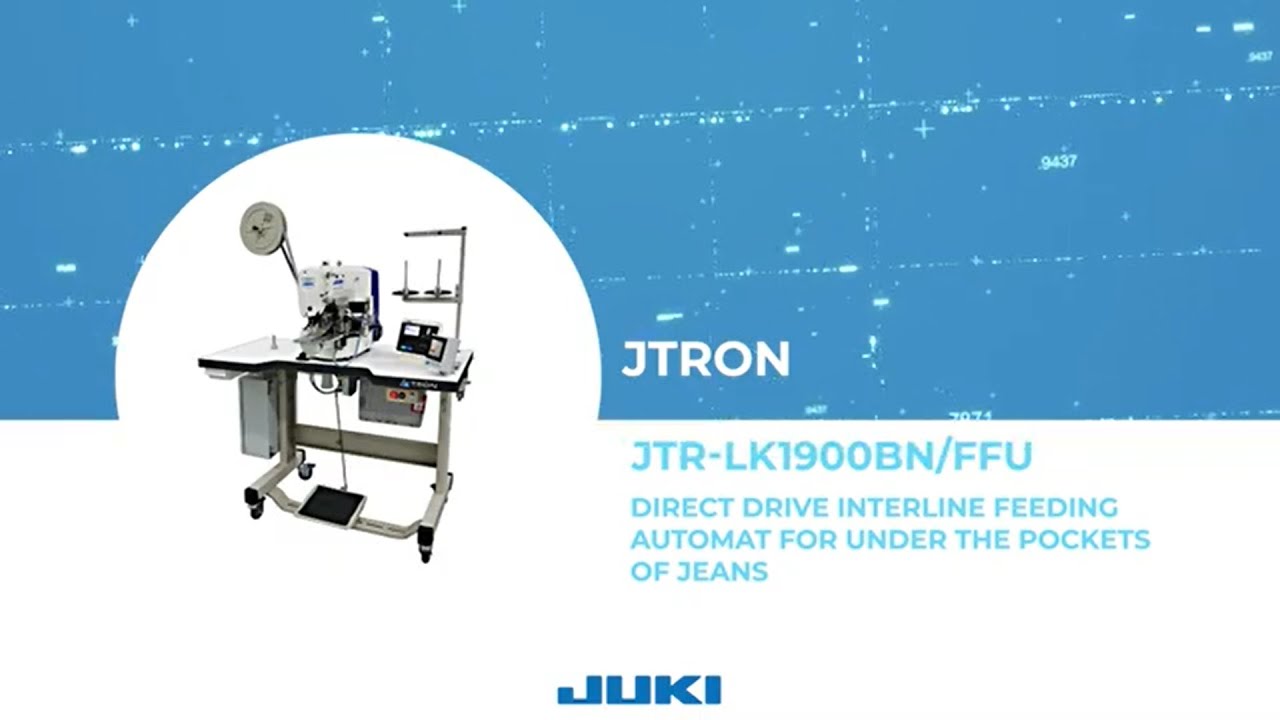 JUKI JTRON JTR-LK1900BN/FFU
HIGHLIGHTS:
▀ Interline cutting and feeding system at desired length under the pockets
▀ Standard stopping position due to special transport system
▀ Easy to adjust of different sizes ▀ Excellent stitch quality
▀ Oil free working enviroment ▀ Automatic tension system (patented)
▀ Automatic thread trimming and thread wiper
▀ Memory function of 50 different bartacking style
▀ Vibration free and silent working enviroment
▀ High efficiency – outstanding performance
▀ Maximum energy saving ▀ Optional: XLC Big rotary hook
JUKI JTRON JTR-LK1900BN/CLA Series
Care Labels Combining and Sewing Automat
HIGHLIGHTS:
▀ Able to attach up to 5 ribbon care labels ▀ Able to prepare 5 different length and width of labels in one bundle
▀ max. label length: 30 mm - 180 mm max. label width: 10 mm - 50 mm ▀ Automatic feeding system for roll label
▀ Chopper type cutting system ▀ Label control sensor ▀ Excellent bartacking and lockstitch quality ▀ Oil-free working environment (oil-free head) ▀ Automatic thread tension system (patented)
▀ Automatic thread trimmer and wiper ▀ Automatic hook thread clamp ▀ Cutting post transport system ▀ Step motor driven gradually adjustable presser foot height ▀ Able to share settings between machines thanks to NFC and USB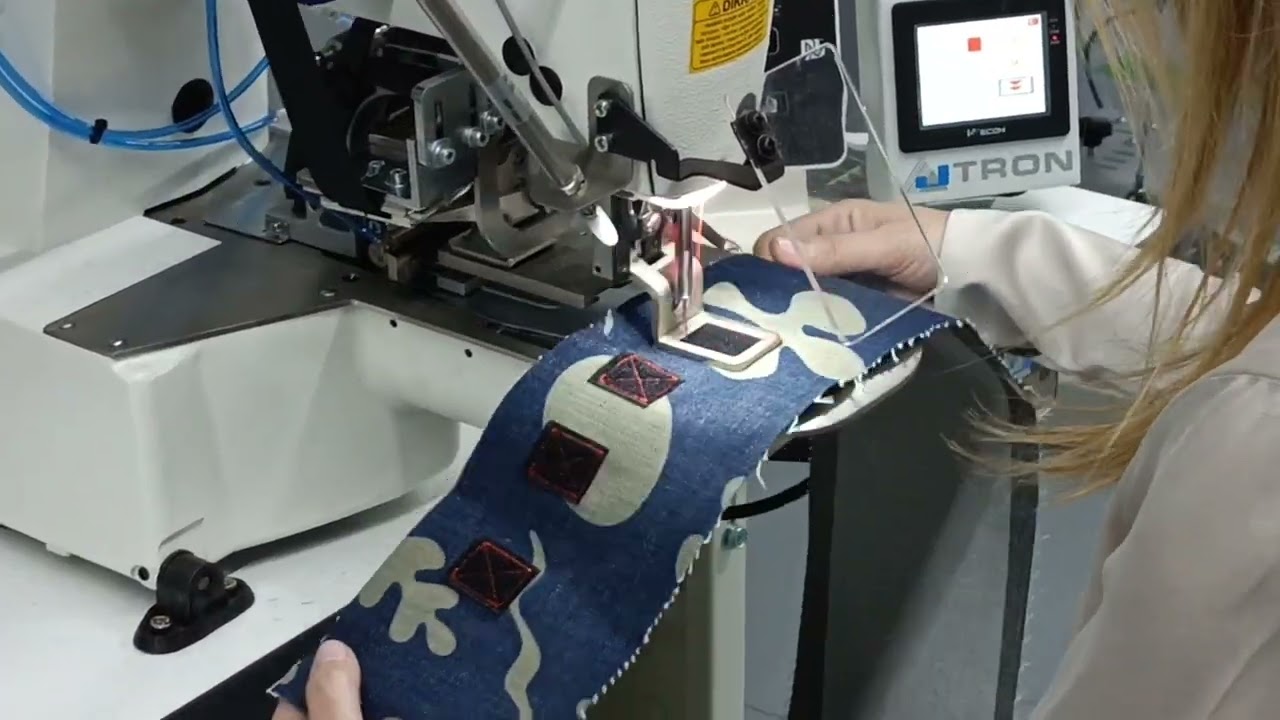 JUKI JTRON JTR-LK1900BN/VFU
Velcro Feeding Sewing Unit
HIGHLIGHTS
▀ Automatic velcro cutting and feeding system
▀ Adjustable velcro lenght via touchscreen
▀ Different velcro width options
▀ Adjustable design patterns (Square or envelop)
▀ Automatic thread trimming and thread wiper
▀ Big rotary hook (Optional)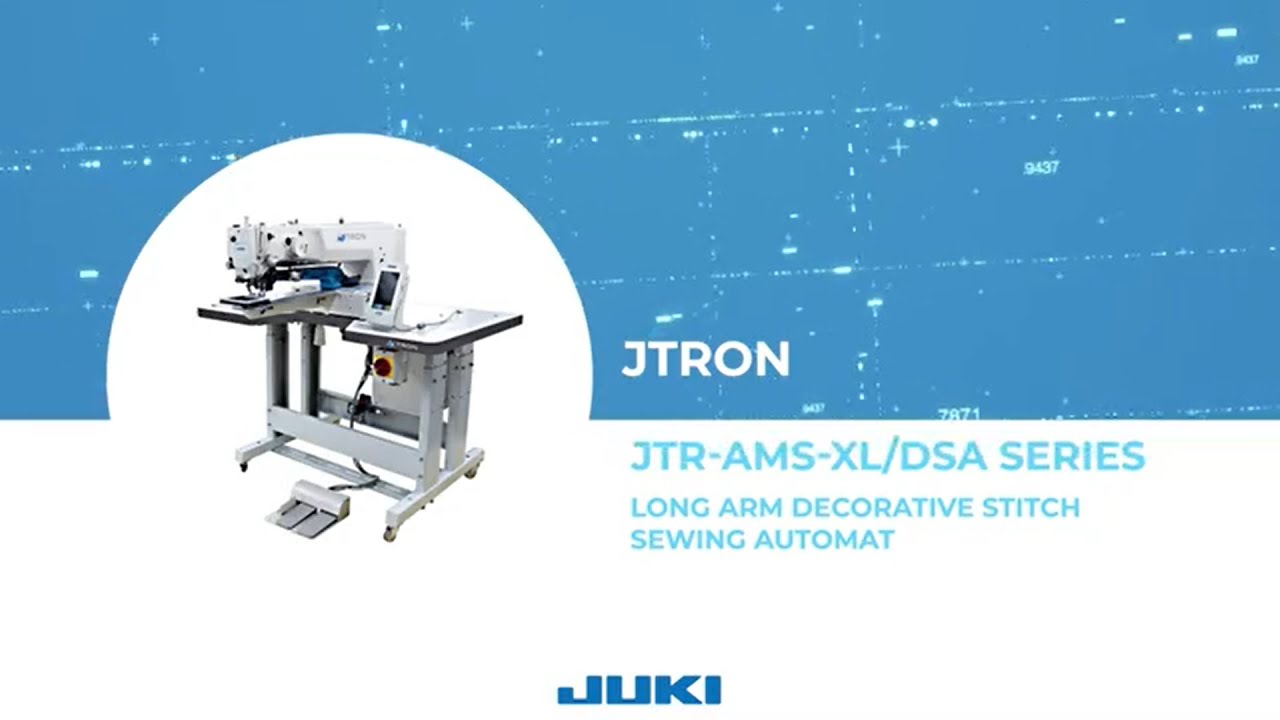 JUKI JTRON JTR-AMS-XL/DSA Series
Long Arm Decorative Stitch Sewing Automat
HIGHLIGHTS:
▀ Operator-friendly, free programmable LCD touchscreen program panel
▀ Decorative sewing / ornamental stitch on tubular leg sections of the finished jeans
▀ Excellent seam quality thanks to seperate driven X-Y step motor system
▀ Active tension system ▀ Durable robust design
▀ Optional 300 mm x 200 mm sewing area
▀ 400 mm extended cylinder arm length for versatile production
▀ Ø80 mm diameter of the cylinder arm
▀ 999 program capacity
JUKI JTRON JTR-KM3680N/WSU Series
Waistband Sewing Unit (Double Chainstitch)
HIGHLIGHTS:
▀ Stitch skipping (unseam) at the beginning and at the end of the operation
▀ Automatic waistband cutter
▀ Able to attach both straight and/or curved waistbands by changing just the puller
▀ Double waistband puller and double thread tension system provides excellent seam quality
▀ Height adjustable ergonomic table and stand
▀ Automatic presser foot lifter and needle cooler
JUKI JTRON JTR-LH3578/PHA Series
Lockstitch Pocket Hemming Automat
HIGHLIGHTS:
▀ Excellent lockstitch quality
▀ Operator friendly LCD touchscreen
▀ Step motor controlled special belt transport system adjustable
for fine or thick material
▀ Photocell controlled thread trimming system
▀ Two needle lockstitch sewing head with standard 6,4 mm gauge
▀ Optionally, needle gauge can be chosen as: 4,8; 7,2 mm
▀ Special rotating stacker system
▀ Height adjustable work place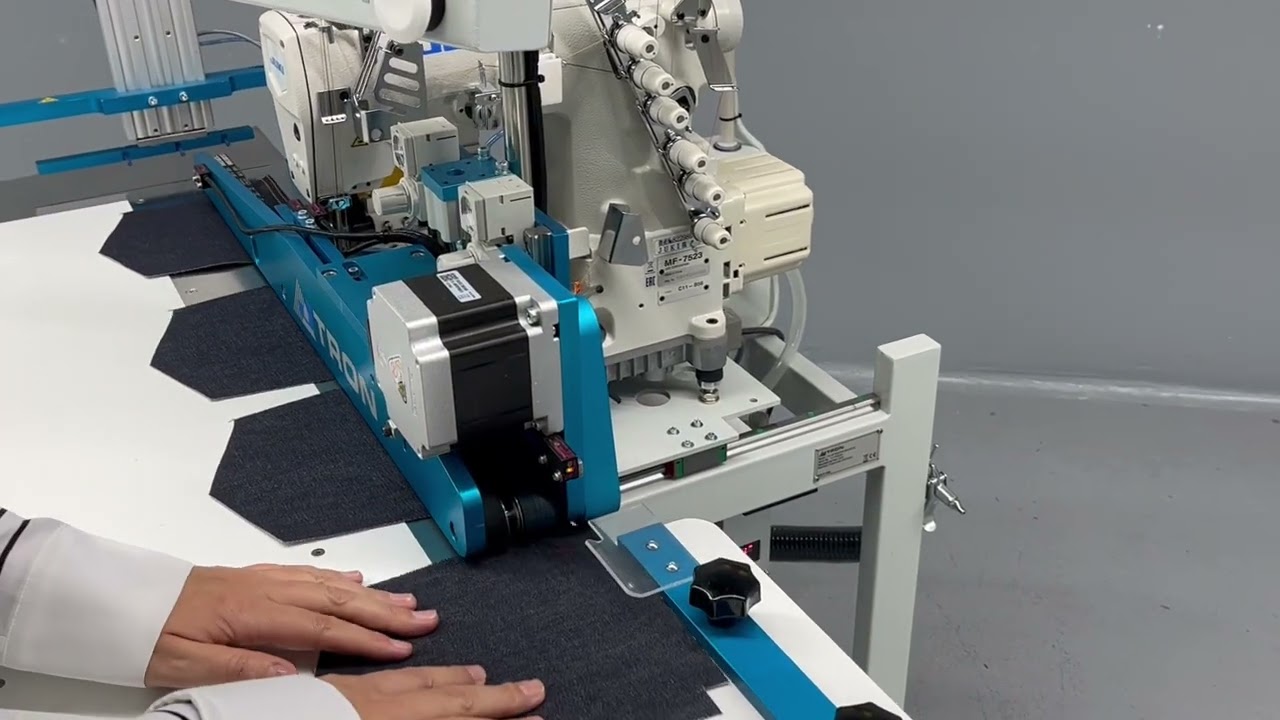 JUKI JTRON JTR-MF7523/PHA Series
Chainstitch Pocket Hemming Automat
HIGHLIGHTS:
▀ Excellent chainstitch quality ▀ Operator friendly LCD touchscreen
▀ Special hemming attachment provides 9 to 15 mm hemming marge ▀ Step motor controlled special belt transport system adjustable for fine or thick material ▀ Photocell controlled thread trimming system ▀ Three needle chainstitch sewing head with standard 6.4 mm gauge ▀ Optionally, needle gauge can be chosen as: 4.8; 7.2 mm ▀ Special rotating stacker system for the sewn pockets ▀ Height adjustable work place
▀ Wide folder attachment between 15 - 25 mm (optional)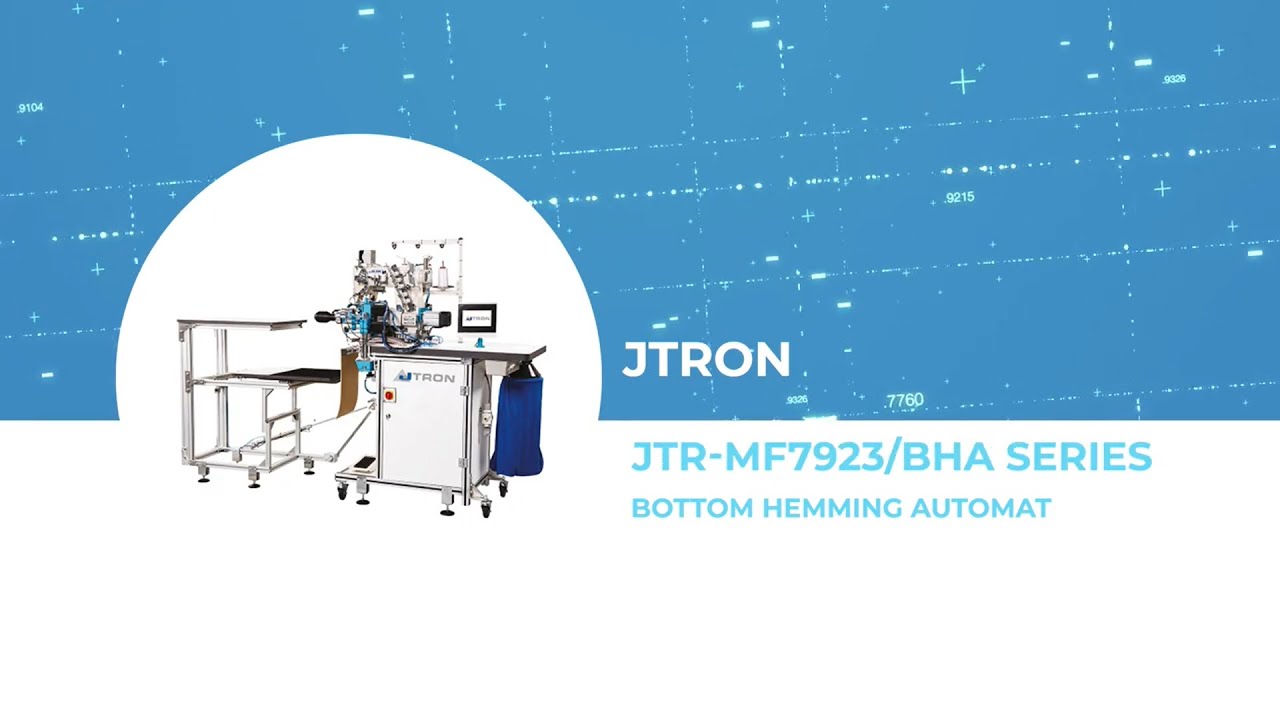 JUKI JTRON JTR-MF7923/BHA Series
Bottom Hemming Automat
HIGHLIGHTS:
▀ Able to sew t-shirt bottom in tubular form with or without side seam
▀ An operator can operate 2 or 3 machines
▀ Automatic step motor controlled size change between different sizes via touchscreen
▀ Size tolarance system adapts machine for measurement differences up to 1 cm for each size
▀ 2 or 3 needle coverseam stitch with perfect overlap sewing stitch at the end of operation
▀ Minimum fabric trimming waste due to servo motor controlled left hand knife system
▀ Photocell controlled bottom edge guiding system
▀ Automatic stacker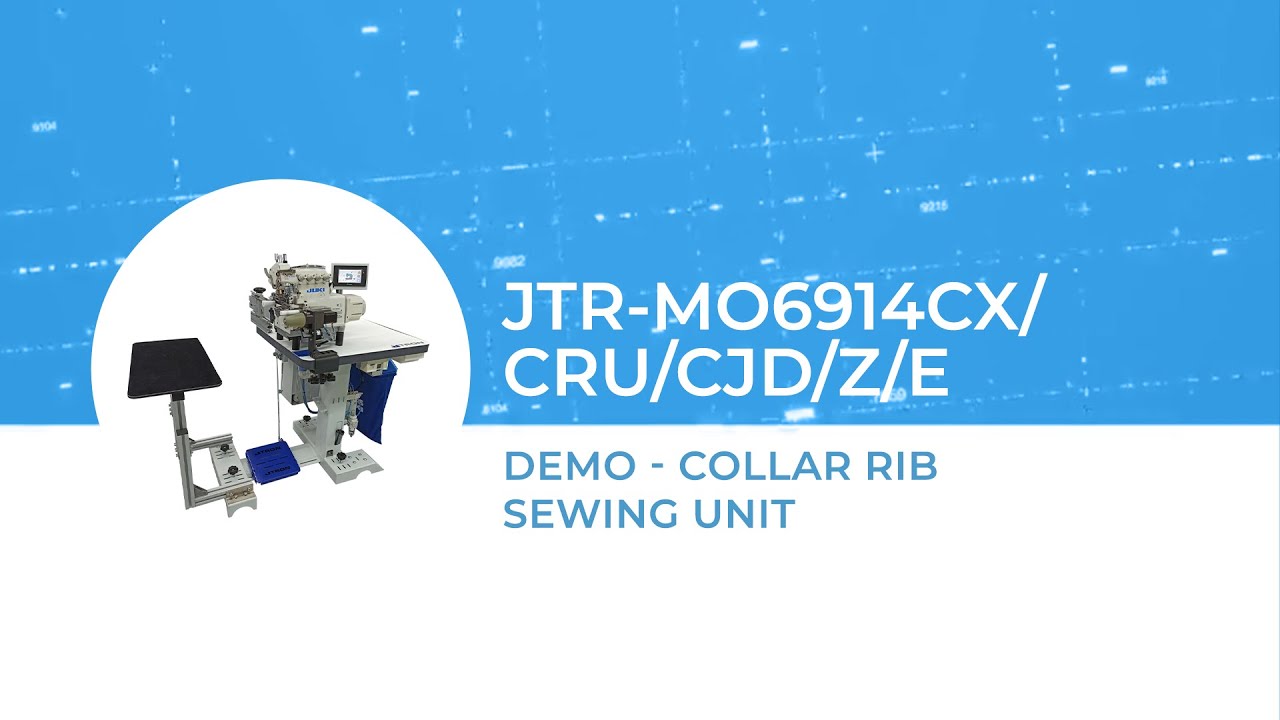 JUKI JTRON JTR-MO6914CX/CRU Series
Collar Rib Sewing Unit
HIGHLIGHTS:
▀ Perfect distribution of tension on collar thanks to upper transport feature
▀ Automatic presser foot lifter, waste fabric vacuuming and stitch counting features
▀ Height adjustable ergonomic table and stand
▀ Optional automatic collar rib joint detection and positioning system
(Adjustable via touchscreen):
- Always positions the collar rib joint at the same point and
- Provides %30 faster collar placing operation
▀ Optional automatic size setting via touchpanel (S-M-L-XL-XXL...)
increases productivity
▀ Optional neck tape attaching with/without tape feeder feature